QYPN: gemodificeerde isolatie van polypropyleen, met nitrilrubber omhulde platte vermogenskabel voor elektrische pompen die kunnen worden gebruikt .
Dit product is geschikt voor voeding voor dompelpompeenheden met een nominale spanning van maximaal 3 kV of 6 kV. De lange werktemperatuur van de geleider is 90 ° C, met uitstekende oliebestendigheid en corrosiebestendigheid.
Standaard van uitvoering
IEEE1019 API RP 11S6 GB / T16750 JB5332
Product structuur beschrijving
Geleider - massieve of gedraaide tinnen koperen geleider.
Isolatie - gemodificeerd polypropyleen. Het heeft uitstekende mechanische en elektrische isolatie-eigenschappen, goede chemische weerstand en hittebestendigheid.
Jas - NBR-rubber. Het heeft uitstekende oliebestendigheid, koude weerstand, hittebestendigheid, het verouderen weerstand, gaspermeabiliteit, chemische corrosieweerstand en waterweerstand .
Barrièrelaag - oliebestendige inpakriem of geweven draad.
Armor - gegalvaniseerde stalen strip of roestvrijstalen strip chain armour. De meeste omgevingen met oliebronnen zijn meestal gegalvaniseerd staalband gepantserd; RVS strips zijn geschikt voor putten met hoge corrosie.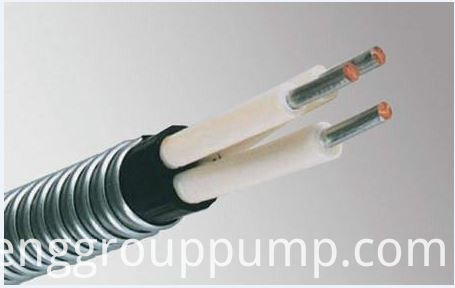 3 kV
AWG

mm 2 Conductor cross section

Conductor structure (root number / diameter)

mm Conductor diameter


(@25℃Ω/km )direct-current resistance


(MΩ·km)

insulation resistance


( μA/km. kV)

Leakage current

1

42.4

7/2.85

8.2

0.440

2272

0.44

1

42.4

1/7.35

7.35

0.426

2272

0.44

2

33.6

7/2.5

7.0

0.554

2531

0.40

2

33.6

1/6.54

6.54

0.538

2531

0.40

4

21.1

1/5.19

5.19

0.856

3368

0.30

5

16.0

1/4.62

4.62

1.18

3757

0.27

6

13.3

1/4.12

4.12

1.36

4034

0.25

7

10.0

1/3.60

3.60

1.88

4492

0.22
6kV
AWG

mm 2 Conductor cross section

Conductor structure (root number / diameter)


mm Conductor diameter


(@25℃Ω/km )direct-current resistance


(MΩ·km)

insulation resistance


( μA/km. kV)

Leakage current

1

42.4

7/2.85

8.2

0.440

2630

0.38

1

42.4

1/7.35

7.35

0.426

2630

0.38

2

33.6

7/2.5

7.0

0.554

2921

0.34

2

33.6

1/6.54

6.54

0.538

2921

0.34

4

21.1

1/5.19

5.19

0.856

3854

0.26

5

16.0

1/4.62

4.62

1.18

4283

0.23

6

13.3

1/4.12

4.12

1.36

4587

0.22

7

10.0

1/3.60

3.60

1.88

5088

0.20
Product Categorie : Elektrische pomp ondergedompeld in Petroleum > Stroomkabel